God has really blessed us when He lead me to Paperback Swap & Bookmooch.
Paperback Swap
I just love Paperback Swap!!!

The site is very simple to join and it is free. When you join you get 3 points for free which you can use right away to start requesting books.

This site has TONS of books listed that people are giving away. What I love about the site is they have rules for the books you list. They have certain conditions for the books you list. It is pretty much very simple to follow the conditions. Think to yourself "Would I like to receive this book?" If it the book is torn, missing a cover, pages are lose and stuff like that then don't list it.

It is really easy to list a book. Just type in the ISBN # which is found on the back of most books.

Once you list some books you simple wait for people to start requesting them. When someone wants one of your books you get an email letting you know and then you agree to mail it to them. Once they get the book they log onto Paperback Swap and let you know that they received the book & you are given 1 point which you then you to request a book from someone else.

Another thing I love about this site is they have what is called a "Bookwrapper" that you can print out which the person requesting the book address on it and your return address.

You do have to pay for the shipping of the book. A small price to pay because once they get the book you get a credit to get a free book from someone else!

Another neat thing about the site that I like is they show you how much money you have saved using the said. Let's say each used book is valued at $4. On my main page at Paperback Swap it shows we have saved over $189 in free books!

So head over to Paperback Swap right now & join!! If you love books you'll fall in love with this site!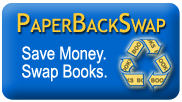 Bookmooch
Book mooch works a little differently than Paperback Swap but also a great place to find books!

First of all they have no rules about conditions that I have seen. But they do have a place to tell others the condition of your book when you post it. Some do this and some don't. I make a point to this every time I post a book though so the person knows what kind of book they are getting.

The points work differently too. You start off with 0 points. Each time you post a book to give away you get 1/10th of a point. So if you post 10 books you get 1 point to trade for a book.

When you request a book from someone you send them a point right away.

So head over to Bookmooch and start listing your books you no longer want and start trading with others!!
| | | |
| --- | --- | --- |
| | | |
| | Quick link to Paperback swap! | |
| | | |
Click photo to go Bookmooch

Illustration credit Andrice Arp, courtesy of BookMooch.com